40€ person / night
Price High Season Christmas (from 24-12 to 6-1) Easter Week (from Thursday to Monday) June, July, August, September, Spanish and Andalusian holidays. Minimum stay: 2 days Minimum people: 2 pers.

35€ person / night
Low Season Price From Mondays to Sundays Minimum stay: 2 days Minimum people: 2 pers.

35€ child / night
Children from 2 to 11 years old Children from 0 to 2 years FREE

40€ person / night
Price for 1 NIGHT From Mondays to Sundays Stay: 1 day Minimum people: 3 people.
Reserve now
Cave with capacity for 2 to 4 people. It has 2 bedrooms with double or single beds, living-dining room with fireplace, sofa, TV and large table, fully equipped kitchen with table, fully equipped bathroom and outside terrace-viewpoint with Sierra Nevada views, garden table and chairs, barbecue and private garage in cave.
* The caves have neither a toaster nor a hair dryer. Solar-wind energy powers these bioclimatic

and environmentally

friendly

homes

.
Cave services
Living-dining room
Fully equipped bathroom
Fully equipped kitchen.
Fireplace
Set of sheets and bath towels
2 double beds and 2 single beds
Private garage
Cradle (available upon prior request)
Common services
Swimming pool
BBQ-Garden
Terrace-viewpoint
Take a 360º virtual tour of the caves.

INFORMATION
Additional services

Special rates (on request)
From 4 people or from 4 days of stay.

Outdoor pool
Available during the summer high season (June, July, August and September), from 10 a.m. to 9 p.m.

Activities and getaways
The service information of 4×4 routes through the desert, in a balloon, in motor paragliding, through the different routes to see the dolmens or the "acequia (canal) del Toril" together with the petroglyphs. You can request it at the time of booking or upon arrival at the caves

For groups
50€ deposit
for groups that occupy 2-3 caves. Refund by bank transfer 1 day after departure.

Bike rental (BTT)
1 day 10€/bike.
2 days 8€/bike.
3 days 6€/bike.

Firewood
We charge firewood separately (€ 12 / wheelbarrow). Charcoal barbecue sack (€ 6 / sack)

Pets allowed
50€ deposit
when booking. Refund by bank transfer 1 day after departure. We have containers for food or drink. You must not leave alone the pet in the cave.

Breakfast or menus (optional).
Choice of breakfast service or menu
for groups only. (advance request only).
· Full breakfast (sweet and salty) 6€/ pers. and day.
· Menu (Chicken rice, vegetables and salads) 20€/ pers. and day.
· Menu (Seafood rice and salads) 20€/pers. and day.
· Menu (Barbecue: meat, sausages and salads) 20€/pers. and day.
ACCOMMODATIONS
Visit other caves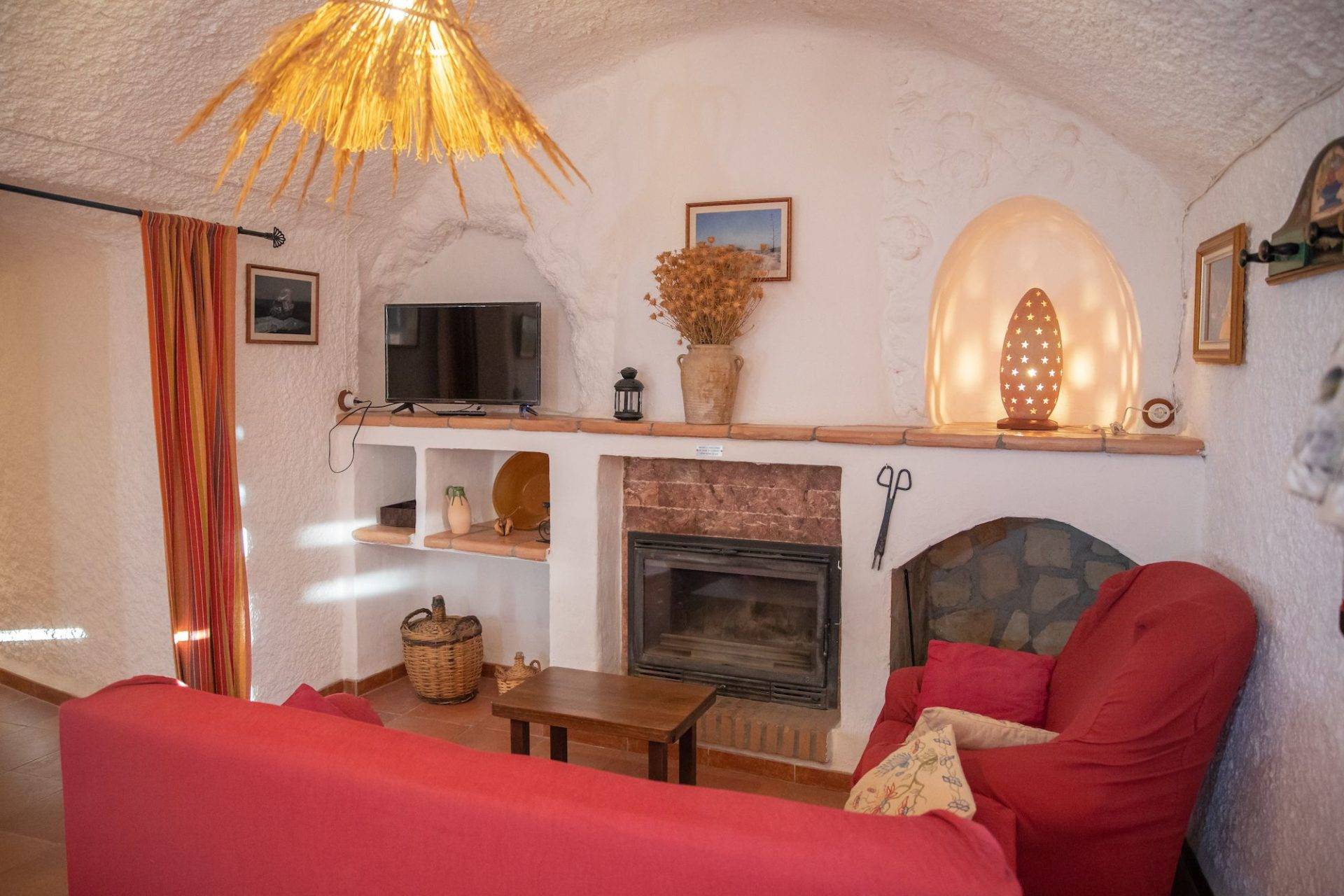 Capacity for 2 to 5 persons. It has 2 bedrooms 1 triple and 1 double with double bed…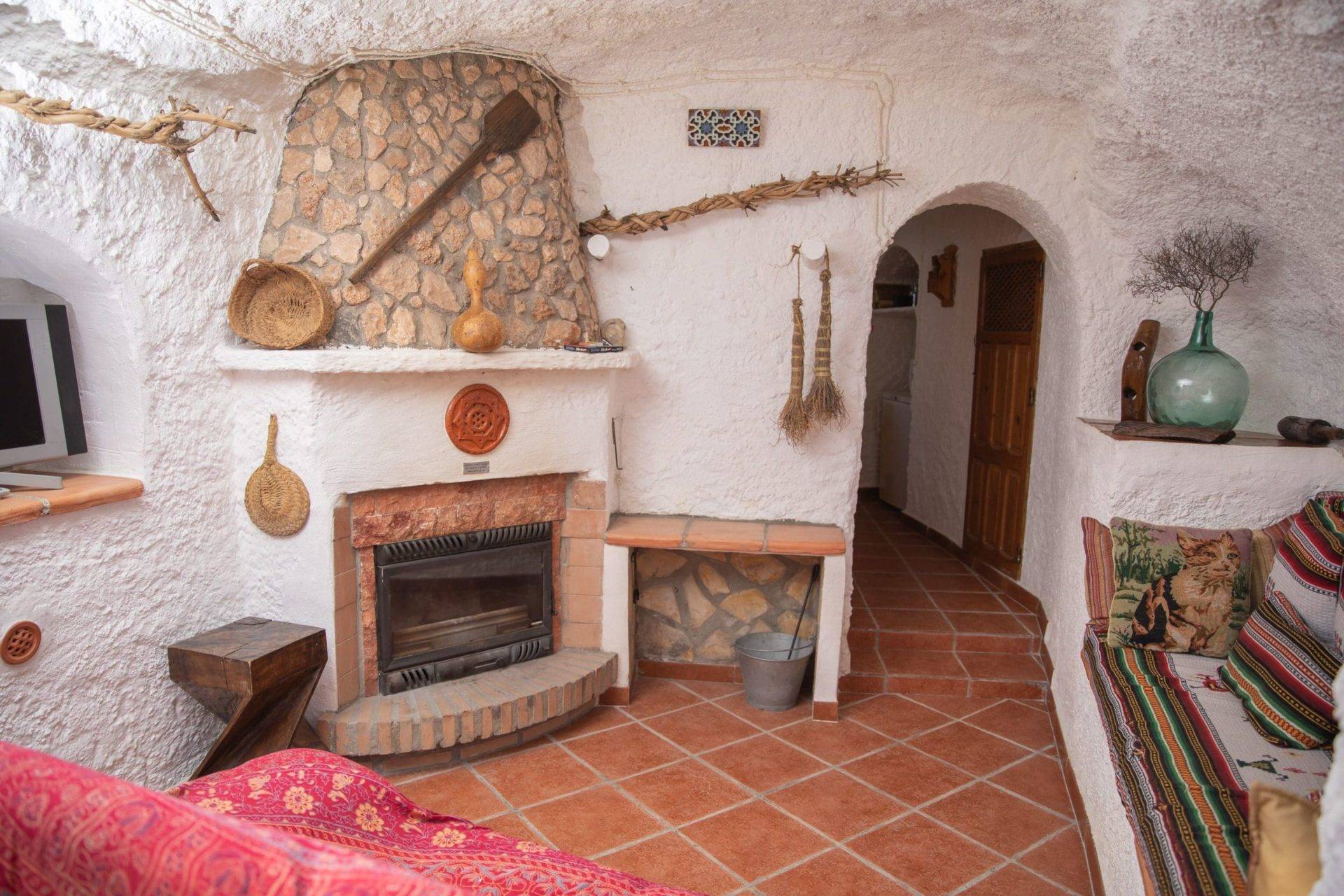 Capacity from 2 to 6 people has 2 bedrooms, one bedroom with a double bed and the other with 1 double bed and 2 singles…
GENERAL POLICIES
Accommodation policies and conditions
Arrival and Departures
Please be sure to inform us of the approximate time of your arrival and any delay or change in the approximate time of arrival, in order to plan your check-in. 
The contact person will give you the key and give you all the information you need during your stay
Cancellation policy
When making a reservation in the Cuevas el Torriblanco by either mail, telephone or directly, the client accepts its conditions of cancellation and no show.
The cancellation policy applies to all cancellations made during the thirty days prior to entering the caves or during the client's stay, without having complied with the nights reserved. Once within the policy explained above, no changes or refunds can be made.
House's rules
The customers find the establishment in perfect condition, the facilities clean and all the elements working properly. Upon arrival at this establishment, they will be informed of the rules of use and will be accepted when signing the registration form.